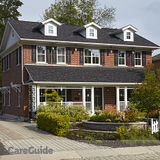 Greenbilt H
Are You An Experienced Carpenter? There's Green In Your Future!
Carpenter Job in Oakville, Ontario
Greenbilt Homes Ltd. (www.....ca) is a Toronto-area Construction Company specialized in "Green" custom homes - high performance buildings that have to be built with high levels of craftsmanship. Greenbilt's homes often incorporate leading edge technology to actively and/or passively manage energy usage, reducing heating, cooling, lighting, and other energy costs. Key features of Greenbilt projects include resiliency to extreme weather, redundancy in energy systems, and innovations in the construction of the building envelope. Often this involves building with ICFs. Few companies have our track record of building homes with challenging specifications, so our services are in demand throughout the GTA. Greenbilt Homes was incorporated in 2008 to be a division of a larger general contracting firm that started in 1991. Greenbilt is now seeing a surge in demand and is about to begin two new projects, resulting in the requirement for a LEAD CARPENTER/LEAD HAND. Responsibilities: - Working carpenter - Oversee the job site of a custom residential project to ensure successful completion - Work closely with the President on timelines, challenges and decisions - Ensure specifications and schedules are followed - Ensure that materials ordered and delivered, identify cost savings and quality - Liaise with the President on company initiatives - Promote and enforce safety compliance throughout job site Requirements: - 5 years of progressive construction experience, ideally with some supervisory experience - Licensed Carpenter with current experience in rough and finish carpentry (ICF desired) - Confidence and skill level to work on multi-million dollar homes - Strong demonstrated work ethic and ability to produce high quality carpentry efficiently - Strong verbal communication and negotiation skills - Demonstrated organizational and time management skills aided by technology - Willingness to work throughout the GTA - Valid driver's license and own truck - Knowledge of environment and green technologies an asset - Ability to work evenings and weekends if required Greenbilt Homes is a progressive employer and treats employees as our most valuable resource, with reasonable consideration for personal circumstances and unique needs. If you are interested in more information about the position or wish to send a resume please contact catherine @....ca (pls omit space from address - it was put in to thwart robo emails).
Share This Profile
Find Carpenter Jobs in Oakville, Ontario
More jobs in Oakville, Ontario