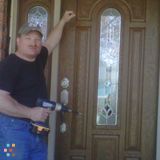 John T
Exterior/Interior doors to install with companies like Home Depots Menards and Lowe's. from JT Doors and Repars.
Carpenter Job in Westland, Michigan
You will need to pick up the doors at times when the customer doesn't have the doors at the house. You will have to tear out the old frame or jamb as well as trim and Brickmold. Then install the new door/jamb set it , shim it, insulate it, put on the handle and Deadbolt. Install the trim and Brickmold by cutting it to size. Then calk inside and out. Then hang the storm door. Weather if it's a new storm door or a reinstall of the old storm door. Maybe even a haulaway at times. You WILL be using a table saw a Miter saw a saw all and some other electric tools. This usually takes between 2 1/2 and 3 1/2 hours. You will need to have customer/people skills as well. That is the key to all jobs is making the customer happy. Feel free to call me for more information. Regards: John Tttensor Jr. JT Doors and Repairs
[email protected]
734-732-...
Share This Profile
Find Carpenter Jobs in Westland, Michigan
More jobs in Westland, Michigan