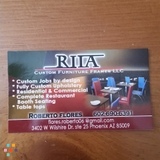 Roberto F
R.I.I.A Custom furniture frames LLC.
Carpenter in Phoenix, Arizona
What are we ? We are a small family operating business that want to grow as a company offering great quality in all aspect of furniture both custom and commercial. We have our own shop and are looking forward to working with different kinds of other business working together and offering the same quality to the customers. What do we do? We focus on custom furniture frames both commercial and custom. We also do cabinetry and upholstery. We re-upholstery as well. We have worked with restaurants, casinos, bars, houses to even simple living rooms in normal customer houses. What we are looking for ? We're looking on working with other business as well as contractors, designers and normal people who are looking for good quality. We have worked with designers, contractors and financial customers.
Share This Profile
Find Carpenter in Phoenix, Arizona