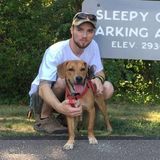 Cam S
Carpenter in Candler, North Carolina
I am originally from Bismarck, ND, where I received an AAS in Carpentry degree from the local community college. My wife got a job that required us to move to Asheville, NC, where I am currently pursuing a Civil Engineering Tech AAS degree and working as a Carpenter. I first got started in this industry 6 years ago doing water/fire damage restoration. I then went on to work for a commercial construction company, where I did everything from setting concrete forms, pouring concrete, metal framing, hanging drywall, steel siding, etc. After a year of working for this company, I decided to go back to school for Carpentry. While in school, I worked for a remodeler doing various jobs. After completing school, I framed houses in Bismarck for about a year, then moved to Fargo, ND and worked for a company framing High-End houses, as well as doing the trim/finish work. In NC, I have worked as a subcontractor for several GCs on and off as needed, doing demo work, helping with remodels, trim work, completing Punch List work for a Timber Frame builder, replacing rotted siding and framing, and helping replace windows in a condominium community. I have also done some labor work on a grading crew. The past few months I have been working mostly for myself, due to working around my school schedule. Since working for myself, I have completed projects such as installing hardwood floors, setting kitchen cabinets/countertops, building decks, trim work, custom shelving, small home improvement projects/repairs, and am currently working working as a carpenter subcontractor for 2 GCs as needed. Any other questions or information you'd like to know, feel free to contact me.
Recommendations
Jared Ownbey
Cam Is an honest, knowledgeable and hardworking carpenter. I would definitely use him again.
Leslie Temme
Cameron Sisk has shown himself to be a dedicated and conscientious worker. He is trustsworthy and always does what he says he will do, is mindful of details and does a fabulous job. He is also patient and considerate when the homeowner (me) changes her mind :) I highly recommend him for any of your carpentry needs.
Lisanne Lombardo
I recommend Cam S as a carpenter
Share This Profile
Find Carpenter in Candler, North Carolina
More in Candler, North Carolina